July 26th, Nike has always brought strong sports attributes in female marketing. Nike hosted a JUST DO IT Girls' Sports Festival at the Shanghai Yicang Exhibition Hall, which brought together thousands of women to participate in sports. Instead of calling women, goddesses or queens, Nike used the words girl and girl in the official propaganda to play a youth card.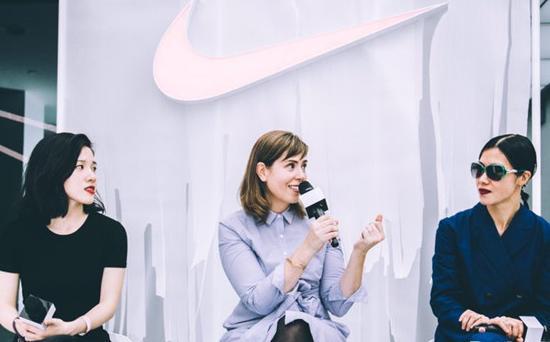 In this women's sports carnival, Nike provides yoga, boxing, dance and other training camps, REACT music party running, football experience and aerial basketball special, hoping to let more women feel the joy of sports.

On the day, tennis grand slam winner Li Na and young actor Zhou Dongyu showed up to talk about daily sports. Li Na encourages women to participate in sports with a consistent and straightforward style. "You have to have a strong heart to tell yourself, obey your heart, and do what you want."

  Li Na claimed that since August 2017, she still maintains 10 kilometers of running training every day after retiring. The former professional athlete who had undergone knee surgery four times said at the scene that the claim that running hurts the knee may be unfounded.

  As a popular representative of women's sports, Zhou Dongyu believes, "For me, sports are the happiest time of the day, whether it is doing NTC or practicing yoga, to help myself maintain a good state and flexibility of the body."

  At the same time, Nike introduced public welfare elements, a project called "Boundless Girls" (Boundless Girls) was officially launched, mainly for women to remove barriers to participation in sports, release potential and gain confidence through sports.

   It is reported that the "Spread the Feet" project will successively select 10 schools in Beijing and Shanghai. Nike's energetic campus coaches will provide specially designed courses for girls in these schools and cooperate with product distribution.

  Nike will also set up a "spread foot" fund with the China Youth Development Foundation to encourage physical education teachers to propose innovative curriculum plans to increase girls' enthusiasm for participating in sports. Excellent teaching plans will receive financial rewards and product support.



Dong Wei, Nike's global vice president and general manager of Greater China, said, "Active children are more confident and perform better in all aspects. With the spread of feet project, we believe that more girls will fall in love with sports, Develop good daily habits for exercise."

   This sports giant's emphasis on the female market is increasing at a rate that is visible to the naked eye.

  In October 2014, Nike released the Nike Women strategy in New York and announced its official entry into the women's sports market. With the release of the strategy, American brands have made a series of offline retail experience innovations for women, including the opening of the first domestic women's experience store in Shanghai at the end of 2014, providing a full range of products and services for women.

  Take the Nike flagship store in Guangzhou Grandview Plaza as an example, women's products are placed on the first floor, showing the brand's emphasis on women in the channel.

  In April 2018, Nike launched an online women's store called Nike Unlaced to provide more size range and innovative shoes. In the past, most of these services have appeared in male customers. Nike Unlaced also provides private customization and exclusive distribution services, and hires trendy celebrities to plan women's products.

   Earlier this year, Nike also announced the launch of yoga training apparel series. According to a report by consulting company iResearch, the size of the Chinese yoga market in 2018 is expected to reach 32.21 billion yuan, of which female consumption accounts for up to 94.9%. Nike's action will accelerate the expansion of female fitness.

   product and channel layout is not enough to establish an advantage in this market, another practice of Nike in the field of marketing is to create a cultural wave of women's sports.

  Since the launch of the women's strategy, Nike has repeatedly launched large-scale marketing series for female consumers, including the global "Better for it" and "only for better" in the Chinese market. From professional athlete stories to ordinary women's perspectives, Nike constantly instills women's sports concepts into the market.

  At the same time, Nike integrates Nike+Training Club and Nike+Running app training courses, launching various female experience activities offline.

   On the eve of Women's Day this year, Nike continued its previous marketing strategy and released an ad titled "Too Excessive? Then Look at Overpower" for the Chinese market. The film was led by Li Na and participated by a group of female athletes, telling the society's prejudice against female players, in order to create momentum for the female sports festival.

  In the five-year plan to 2020, Nike's goal is to increase the revenue of women's products from 5.7 billion US dollars to 11 billion US dollars, accounting for 1/5 of total revenue. At present, the sales growth rate of Nike women's products is higher than that of men, and the proportion of revenue has exceeded 20%, but it is still far from the target of 11 billion US dollars.

  According to the latest release of the second quarter of fiscal 2019, revenue increased by 10% year-on-year to 9.374 billion US dollars, net profit increased by 10% to 847 million US dollars, and digital business increased by 41%. Greater China remained strong, with sales rising 26% to US$1.5 billion, a double-digit growth rate for 18 consecutive quarters.

  Nike will announce the results of the third fiscal quarter on March 21. The Zacks Research Report predicts that revenue in the third quarter increased by 5.7% year-on-year to US$9.5 billion, and Greater China increased by 15% to US$1.54 billion, which is a slowdown from the second quarter.

   Driven by the Spring Festival shopping season, Nike has achieved double-digit sales growth in the Greater China market for 19 consecutive seasons, and there seems to be little suspense.